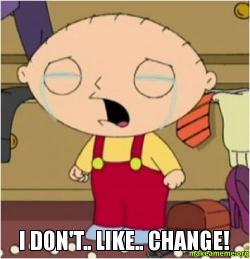 Ch-ch-ch-changes
Little people have to learn to be incredibly adaptable. 

Marley's environment is an ever-changing one. His surroundings constantly shift from place to place. From home to nursery, from supermarkets to friend's houses, and from shops to cafes, pubs, buses, trains and all the rest. 
It's difficult enough for us adults ("adults") to adjust to those kind of changes. But at least we are usually in control of what we do and where we go. Little Marley has absolutely no say over any of it. But nevertheless, most of the time he actually adjusts superbly. 

He takes in his surroundings, he absorbs all of what is going on around him and he very seldom complains about any of it. 

Unless he's hungry or tired, of course.
The grumpy man
But there are also other exceptions.

He doesn't take too kindly to seeing his Mummy or Daddy hugging anyone other than him, for example. Even if we are hugging each other! It's usually cut off by a stern "NOOOOO" coming from his direction.

And coupled with that frown.
He does it with a smirk some of the time, especially when it's only Mummy and Daddy hugging, so we know it's not really upsetting him. But he does seem to find it difficult to handle affection being channeled in any other direction other than towards him.

When he started out at nursery, he was one of the youngest ones there. In recent months, he has become one of the more senior figures in his group, apparently often taking a leading role in whatever is going on and stamping his authority on it, which is lovely to hear. 

But one of the nursery leaders told us this week that whenever her own children visit the nursery, Marley has a bit of a hard time accepting seeing her with them and showing them affection. So much so, in fact, that her 8 year old daughter this week suggested wearing a disguise the next time she visits, to avoid Marley getting upset! 
I'm sure he'll grow out of it soon – but in the meantime I wouldn't advise hugging me in front of him!