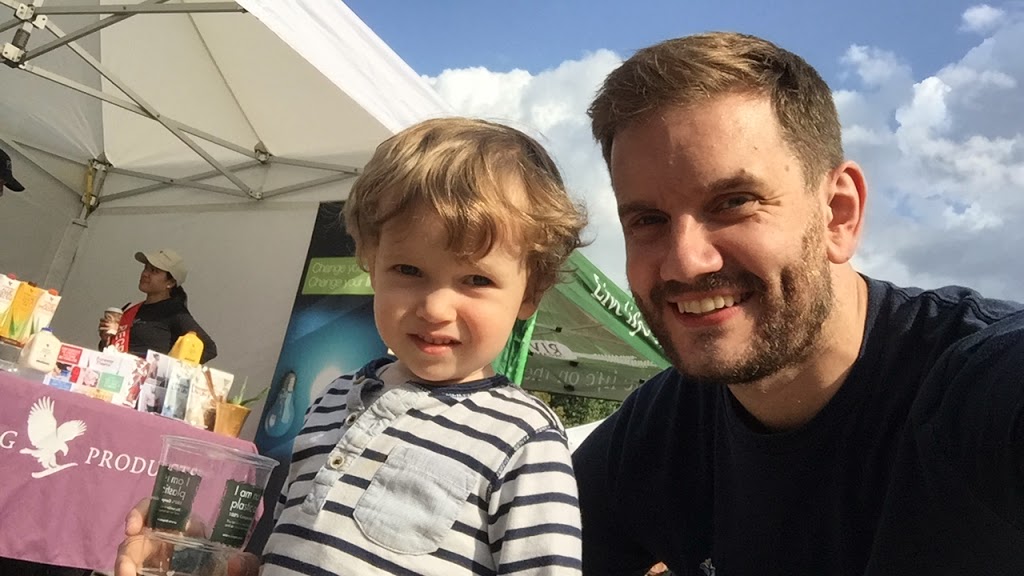 Who goes to a food festival and doesn't eat anything?
Well, these guys, apparently…but then they go home and try out their first ever chicken korma recipe
I spent yesterday afternoon with Marley at Wimbledon Park at the Fantastic Food Festival, and someone forgot to take any cash along. So we had to endure being teased by an array of delicious food on the stands without being able to taste any of it!
Actually, we did try a few bits and bobs. There were some freebies on offer; pieces of artisan chocolate, a gin & tonic from Copper Rivet, souvlaki from the Greek wraps stand and a few others. 
Plus Marley stole a block of cheese that was about to be cut in to smaller pieces for tasting from the French cheese stand. 
As luck would have it, the Harvey's Brewery bar was one of the few places that accepted card payments so I was at least able to get a beer. And I think Marley was a bit jealous….
But since we weren't able to try any of the Thai food, or the Lebanese, or the fried chicken, or the burgers, we went home feeling incredibly hungry, and in the mood to eat. 
By the time I got home, I really fancied a curry so I had a look at a couple of recipes, blended a few of the ideas together and came up with this little gem of a Korma which could barely be easier to make. 
So here you have it, the very unique Chicken Korma Performa. 
Give it a go and let me know what you think! 
Chicken Korma Perform
WHAT YOU NEED: 
650g diced chicken breast
2 tbsp olive oil
1 large onion, finely chopped
4 garlic cloves, finely chopped
2tbsp curry powder (Korma flavour)
500ml chicken stock (OR 400ml coconut milk and 100ml chicken stock)
1 tbsp tomato puree
1/2 tsp sugar
3 tbsp Greek yoghurt
Salt and black pepper
Chopped fresh coriander to garnish

METHOD:

1) Season the chicken with salt & pepper.

2) Heat the oil in a deep frying pan. Add the onion & garlic and cook for 5mins or until golden brown, stirring regularly.

3) Add the chicken and brown on all sides (6-8mins). Stir in the curry powder and cook for 1 minute

4) Add the stock, tomato puree and sugar. Bring to the boil, then reduce the heat, cover and simmer for 45mins, stirring occasionally.

5) Take off the heat and stir in the Greek yoghurt. Heat the sauce again for 3-4mins and season to taste.

6) Serve with long grain rice (Naan bread on the side), sprinkle some chopped coriander on top and enjoy!