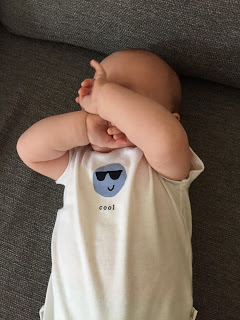 Dressing like a dad
I think I've started dressing like a dad. And by the look of it, Marley is already embarrassed by me.
He is barely three months old, but already his dad is coming home with polo shirts from M&S. Just a step or two away from slippers and a pipe. I tried on a granddad shirt this week too, thinking I was being all "current". But it actually made me look like an extra from Star Trek. On a positive note, I didn't actually buy it.
Despite the descent in to dad dressing, my wife still agreed to celebrate our first wedding anniversary this week by having lunch with me and Marley in a nice pub in Wandsworth. Our proper celebration was actually a lovely dinner at the place where we were married over in France, but this was a nice follow-up….and it certainly beat a day at the office. 
We had a celebratory couple of glasses of bubbly with the cat later, too.
We also caught up with some of the other mums, dads and babies from our NCT class. The NCT class, for those of you who don't know what NCT stands for (I still have no idea), is like an antenatal class, basically designed to teach you how to try and be a parent. 
When Marley was born back in June, he was the smallest of all the babies from our NCT class. He is now comfortably the largest. To the extent that someone recently pointed out that it looks like he has rubber bands wrapped tightly around his wrists (he doesn't, it's just pure chub). Anyway, I heard that it's impossible to over-feed a baby through breastfeeding , so I think of it as a good thing. Or maybe even as a challenge…..
He'll grow in to his skin, eventually.
It was great to see all the other happy, healthy babies together for the first time, too. They were all super well behaved, and in the main they all sat very still. Not Marley, though. Well behaved, yes. Sitting still, no. He very rarely EVER stops moving, he seems to be going through a stage of bouncing, kicking and waving his arms around at all times. And he seems to be visibly getting bigger every single day! 
It feels like it won't be long before he can actually tell his dad how shocking his new clobber is….