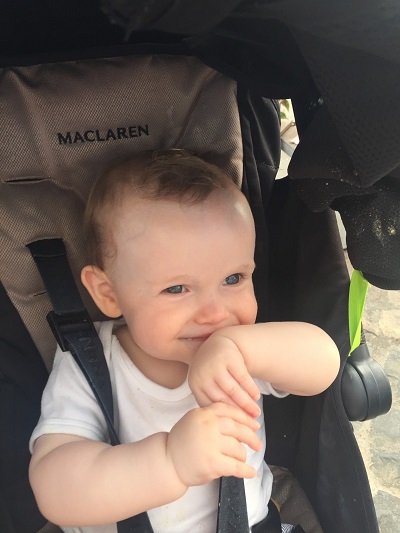 Hilarious little man
As he approaches the first anniversary of his exit from the womb, Marley's personality continues to develop at a speed that is almost impossible for an adult human to keep up with.
The first thing people tend to notice about him now is his laugh. His naughty, staccato, deliberate and incredibly infectious laugh. He sounds so delighted with himself when he does it. Hilarious little man. 
An example
We recently returned from a short holiday in Madrid (where he had an absolute whale of a time, by the way……partying the night away with us at one of my best friends' weddings). 

When we got back, we had a fairly epic journey across London – during rush hour – via public transport with: our three checked bags, three medium-sized cabin bags, his changing bag, his pushchair and a car seat. I still don't really know how we did it.
We arrived at Earls Court station and had to change trains, so we trudged off the first train and waited patiently for the elevator. up to the next one When we eventually got inside, we were pretty close to the front of the lift, so it may have looked from the back as if there was some space in front of us.
There wasn't.

So when a fellow passenger shouted from the back for us to move forward, I had to shout (politely) back that we had a baby, and there was no space in front. 

Strangely, she questioned the legitimacy of my claim, and shouted again. I replied – again – that our baby (and an array of our bags) were in front of us, and that we did, indeed, have nowhere to move. Still polite, but maybe less so than before.

As the doors closed, she shouted for a third time. Growing impatient, I shouted back. Impolite, this time. Something about waiting for the next one. I sneaked in a mild swear word, just for effect. 
A couple of people chuckled, and the doors banged shut. Good timing, I thought. Then it went quiet as we all waited, silently, for the elevator to reach the next floor.

That was the moment Marley chose to unleash his laugh. 

"HAHAHA!!" 

It sounded like it was directed straight at the woman who had just been shouting. Absolute perfection. Timing that his dad could only dream of. Everyone in the lift laughed along with him, it was incredible. 

He really is a hilarious little man!