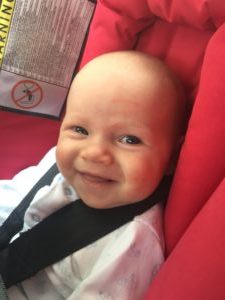 A bagpiper, a criminal and a dwarf get on a train….
Visiting Edinburgh during the Festival, you have to expect to come across some pretty unusual characters. Our train journey from King's Cross had all the makings of an Edinburgh Fringe show production. 
The only thing I had been thinking prior to the journey was "I pray he sleeps". I have been on trains with wailing babies before. And hated it, of course. Don't get me wrong, I wasn't bothered about Marley's crying upsetting other people on the journey. I honestly didn't care. But I had just played football for the first time in six months the night before, my legs were in pieces, I hadn't got to bed until 2:00am and I wanted to try and get some rest for myself. 
Selfish? Yes. Bothered? About as much as any new dad coping on four hours sleep a night, I imagine. 
The train
Anyway, the train was packed. Incredibly, Marley slept the ENTIRE way there (well, unless you count that one trip to the bathroom where he had his nappy changed, and proceeded to piss everywhere; all over the wet wipes, the changing mat, the walls, the floor, the ceiling, his own face…..thankfully my wife took that one on).
As far as first train rides with a newborn go, this couldn't have been smoother. 
Having said that, our fellow passengers on the seats around us made for a very entertaining journey.
Our fellow passengers
Over the four and a half hour journey, we were entertained by:
– three guys from a London brewery start-up called Forest Road who were promoting their beers in Edinburgh
– a bagpiper who was travelling up for the World Championships
– a female criminal who had just been released from jail that morning
– a magical dwarf
The most vocal of the bunch was, of course, the criminal. She "never thought she would end up in jail" and painted a picture of a placid woman who had just flipped when she'd caught her husband of many years sleeping with her best friend. It turned out she had a slightly more questionable background than she first made out, and with a brother also in jail (murder) and countless other stories up her sleeve, it didn't sound like she'd be enjoying her new-found freedom for too long.
Still, she regaled the carriage with tales of what goes on inside, utterly convinced that prison provides the best possible opportunities for business. The train was a slightly duller place after she got off. But the bagpiper stepped up with his own brand of entertainment to keep things going. After one of the brewery guys tried (and failed) to get any notes out of the instrument, I took Marley out when the piper began blasting out some tunes.
It was at this moment I encountered the dwarf. Standing in the vestibule, bouncing Marley along to the tune of Scotland the Brave, he seemed to appear magically out of nowhere. We spoke for a few minutes, but I don't think I really heard anything he said. I was too busy thinking about how I could make this all in to a show at next year's Fringe.