Halloween hilarity
I'm not a big believer in the supernatural – but this Halloween week has certainly produced some unusual and hilarious moments.
First of all, I went to a Halloween party. On a Tuesday night.
A TUESDAY NIGHT!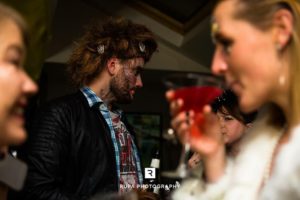 Partying on a school night
The abnormality of this was probably summed up best by a good friend of mine – a teacher – who sent me a message to let me know that his wife (also a teacher) had asked: "who the f**k does he know who throws a party on a Tuesday night?"
Well, it's a good question. And the answer is Lady Wimbledon, an unbelievably well-connected and gregarious member of the South West London community who has a reputation for throwing awesome parties.
And this was no exception – you can read all about it here.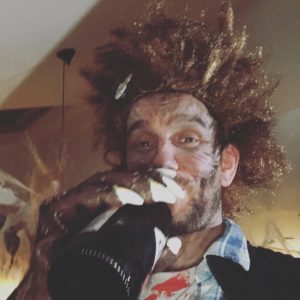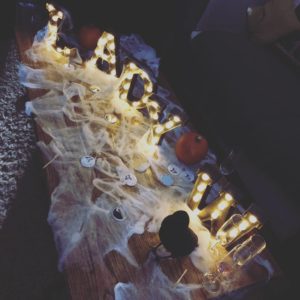 The rest of the week contained a number of other spooky circumstances and ghoulish goings-on, with Marley was at his hilarious best.
Here are a few of this week's other highlights:
5) Bobo's bum
We were sitting on the sofa one evening, Marley was playing with his toy cars on the floor. He stood up and approached the sofa to stroke our cat (Bo, or Bobo) and as he did so he told us: "Bobo has a nice bum……but we shouldn't touch it"
He is almost certainly remembering a time where he did, indeed, touch it.
Anyone who has met our cat will understand when I say I don't think he'll be making that mistake again in a hurry.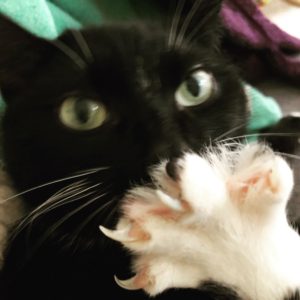 4) Pussy…
I was carrying him up the road on our way to his music class, and he spotted a little dog on the other side of the street. So he shouted out: "DOGGY!"
I asked him: "what do you think the doggy's name might be?" and was a little surprised when he told me:
"Pussy!"
We moved on very quickly after that. I thought I might get in trouble if he was heard shouting that word out across the street….
3) Bitey McBiteface
I may have been the one dressed as a werewolf this week, but it was Marley who was getting in trouble for being a bit too vigorous with his teeth.
While visiting his cousins in Surrey, I'd felt a sharp pain in my leg as he passed by. And then a few days later I felt that same, distinctive toothy agony, this time in my shoulder just a few seconds after he had screamed: "I'M GOING TO EAT YOU!"
There were tears. And not just mine…
2) Lady in red
The day before Halloween, and while I was out, Marley had been lying on my side of the bed as Mummy had read him a story. Suddenly, and for no apparent reason, he frantically scrambled over and climbed on to Mummy, holding on for dear life.
When she asked him what was wrong, he replied: "There's a red lady there" and pointed to where he had just been sitting.
Needless to say, Mummy was absolutely terrified!
1) Why are pirates called pirates? They just ARRRRRR
After learning about pirates at nursery this week, and having his face painted as one, he must have had them on his mind.
As I pushed him along in his buggy this morning, we walked past an (admittedly fairly piratey-looking) older lady, and he shouted out:
"PIRATE – AHOY THERRRRRE"
Shiver me timbers – I do love my little pirate!!