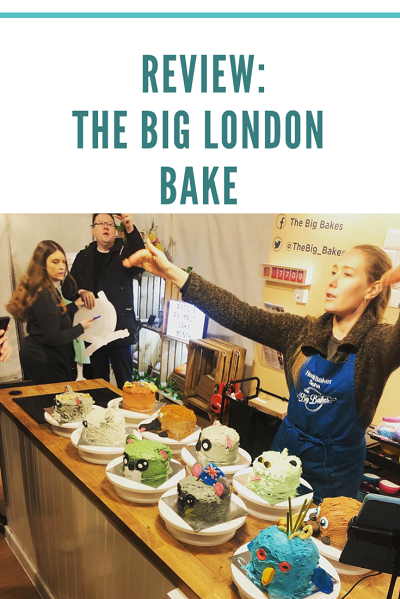 This year's Valentines Day treat was to finally use the voucher I gave my wife last year for The Big London Bake, an interactive experience that replicates Channel 4's Great British Bake Off.
What is it?
The premise is pretty simple. You make your way in to a big Bake Off-style marquee along with a whole bunch of other people. You're then given the ingredients and instructions, and you get 90 minutes in which to come up with a cake.
The marquee in question is in the gardens of The Castle pub in Tooting, just a few minutes walk from Tooting Broadway tube station.
It's laid out exactly like the Bake Off, with 10 cooking stations each decked out with an oven, a mixer and all the utensils you'll need. In one corner of the tent ('creating corner') there is also an array of items for flavouring and decorating your masterpiece.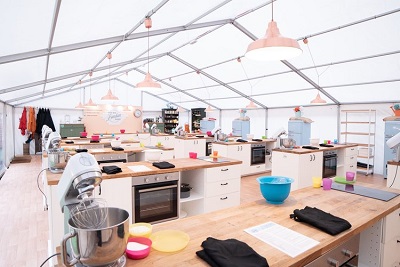 There is even a head baker – Sasha, in our case – who explains what's required, where to find everything and sets the timer going. She was also responsible for judging the cakes at the end.
The bake
As soon as the clock started ticking, I felt under pressure. My wife jumped straight to it, while I floundered. I flapped at the instructions and tried to read the first line about three times before I understood what it said.
I guess I don't cope particularly well under pressure in the kitchen…
But once we got going, I really started to enjoy myself.
Creating the cake mix, chucking it in the oven, whipping up the icing.
All the ingredients are weighted out for you in advance, so all we really had to do was follow the instructions.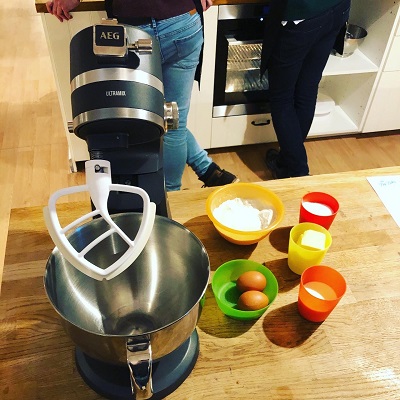 There was absolutely loads of butter, sugar, and a few other things which we mixed up and eventually came out with a cake.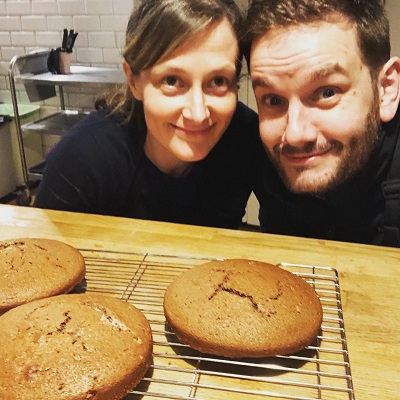 The theme for our session was Aussie Critters with 10% of all ticket sales going towards the Wires Wildlife Charity to help raise funds for injured animals in the Australian wildfires.
Our little boy is a big fan of crocodiles, so there was only ever really one option for us. With a little help from some green food colouring, white and black fondant and a couple of ginger biscuits, we created our reptile.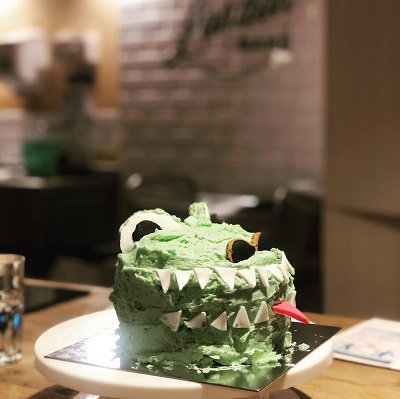 The good
The location is fantastic. The Castle pub is absolutely lovely inside and out, and it's nice to be able to have a drink before (and after!) an experience like this. There's even some outdoor booths with stoves to keep you warm, which was nice in the February cold.
The theme was also great fun, with a variety of different Aussie animals represented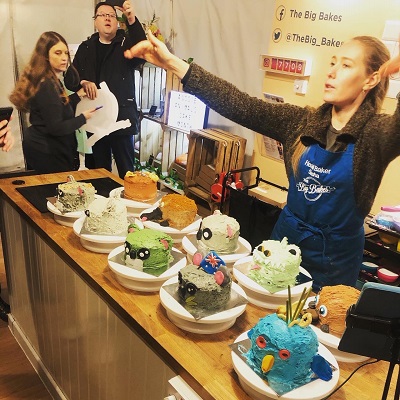 The instructions were clear, which is a must for an amateur like me. And the thrill of working against the clock really added to the excitement of the whole thing.
It's a tremendous setup, with clean and high-quality equipment and a real attention to detail that perfectly replicates the feel of the Great British Bake Off .
Oh, and no prior baking experience is required!
The bad
You're not allowed to take alcoholic drinks in to the tent (boo!) which makes sense from a health and safety point of view, but still. It would have been nice to have a little glass of something either on arrival, or at the end.
There was also a distinct lack of options in the 'creation corner', which meant if you didn't get there quickly you missed out on some options.
The head baker could have been a bit more involved too, and a judging panel of more than one person at the end might be a nice touch.
Overall
We had a really fantastic Valentine's experience at the Big London Bake. I'd definitely recommend it for a date night, and it would also be a great option for a work night out or team-building exercise.
At £40 or so a head, it's not a cheap option. But it also doesn't seem exorbitant for something you're only ever likely to do once.
I read a review beforehand that said something like "good, but needs perfecting" and I think that's probably about right. It really was great fun, and with a couple of final flourishes it could be absolutely superb.
A bit like our cake!